Stay tuned for more details about this event in early 2024. Each year, the Real Estate Institute of Queensland (REIQ) proudly recognises the enormous value women bring as leaders and decision-makers in a range of fields within our industry. In conjunction with International Women's Day, we are always excited to host our signature Women in Real Estate luncheon.
Our keynote speaker for 2023 was the extremely inspiring Janine Shepherd who, after her life changing accident, learned to fly before she could walk again.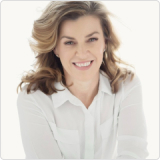 Janine Shepherd
Keynote Speaker
A champion cross-country skier in training for the 1988 winter Olympics, her life changed forever when she was hit by a truck during a bicycle training ride in the Blue Mountains. With the promise of a career as an elite athlete now gone forever, Janine faced a daunting recovery and an uncertain future.
Last year's Charity Raffle

WIRE 2023 are very excited to be supporting such an amazing cause, Catherine's House, through an on-site raffle on the day of the event. Raffle tickets can be purchased on the day or as an addition to your event registration. If you would like to donate directly to this charity, you can choose to do so here.
The Mater is working to convert the historic Mater convent at Mater's South Brisbane campus into Catherine's House for Mothers, Babies and Families, a perinatal mental health service for mothers, babies and families.
The new service will be co-located with Maters' paediatricians, lactation consultants, psychologists, allied health professionals and mental health services. The programs at Catherine's House for Mothers, Babies and Families will form an integrated model of inpatient and outpatient care targeting the antenatal, postnatal and early attachment periods, providing a full spectrum of care that promotes wellness, parental mental health, healthy relationships and child development. They will complement and integrate with other Mater services including the Neonatal Critical Care Unit, 24-hour Pregnancy Assessment Centre, Parenting Support Centre and Parent Aide Unit.
Recommended for:
All sector industry professionals